Andaman Islands! You might associate this tropical paradise with crystal-clear waters, sparkling beaches, and adventurous water sports. But there's another side to this island that waits to be explored after the sun dips below the horizon: the vibrant nightlife in Andaman.
Yes, it's true! Andaman's nightlife is a delightful blend of island charm and modern entertainment, offering something for every nocturnal soul. If you're wondering about the best time to visit Andaman Islands for the nightlife, or what exactly to expect when the sun goes down, let's dive into this world of tropical evening pleasures together.
1. Bars and Nightclubs - Groove to the Beat
Let's start with the heart of any great nightlife scene - the clubs and bars.
Sinclairs Bayview's Nico Bar: With a fantastic view of the ocean, this bar offers a laid-back vibe where you can enjoy a cocktail with a refreshing sea breeze. It's the perfect place to unwind after a long day exploring.

Venom Lounge Bar: Located in Port Blair, this nightclub is the place to let your hair down and dance the night away. With modern interiors and top-notch DJs, this club is a must-visit for party-goers.
2. Beach Parties - Dance on the Sands
Can you imagine anything more enchanting than a party on the beach, under the starlit sky? Nightlife in Andaman offers you just that.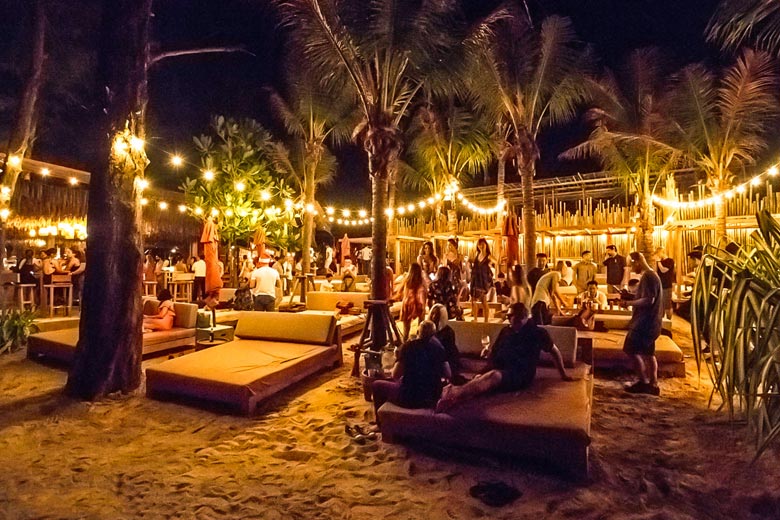 Havelock Island Beach Parties: Check with the local resorts and beach shacks, as many of them organize beach parties with bonfires, live music, and beachside barbecues. Feel the sand under your feet as you groove to the rhythm of the waves.
3. Candlelit Dinners - Romance by the Shore
Nightlife in Andaman isn't only about the pulsating music and wild dancing. For those seeking a quieter, more intimate night, a candlelit dinner on the beach is perfect.
Barefoot at Havelock: Enjoy gourmet dining with your loved one, right by the ocean. The soft glow of the candles, the gentle lap of the waves, and the delicious food make for an unforgettable romantic evening.
4. Night Markets and Shopping - Island Treasures
Shopping enthusiasts, worry not! Nightlife in Andaman has something for you too.
 Aberdeen Bazaar: This bustling market in Port Blair stays lively into the evening. Explore local crafts, jewelry, and take home some unique souvenirs.
5. Bioluminescence Kayaking - Row in a Glowing Ocean
One of the most magical experiences of nightlife in Andaman is bioluminescence kayaking. Imagine rowing through waters that glow with each stroke of the oar.
Havelock and Neil Islands: During specific months, the phytoplankton in the water creates a surreal glow. Make sure to inquire locally to catch this rare and beautiful phenomenon.
When is the Best Time to Visit Andaman Islands for Nightlife?
The nightlife in Andaman is lively throughout the year. However, the period from October to May is considered thebest time to visit Andaman Islands, as the weather is perfect, and all activities, including beach parties, are in full swing.
Conclusion: Embrace the Tropical Nights
Whether you're a party animal or a lover of quiet, romantic evenings, the nightlife in Andaman will not disappoint. From grooving in nightclubs to enjoying a peaceful dinner on the beach, every night offers a new adventure.
Andaman's nightlife might not be as loud or well-known as some other popular destinations, but it has a unique charm that resonates with the island's overall tropical allure. So the next time you plan your trip, remember to pack your dancing shoes, because the nightlife in Andaman is calling, and it's unlike anything else!
Come and experience the magic of tropical nights. Trust us; it's worth staying awake for!
Exploring More of Andaman's Night Vibes
Local Music and Dance Performances: One of the lesser-known gems of Nightlife in Andaman is the traditional music and dance performances. Tribal communities here have rich cultural traditions that are occasionally showcased at hotels and resorts. From the rhythm of the drums to the vibrant dances, these performances offer a deep insight into the island's native culture.

Beachside Cafés and Bars: Just fancy a quiet evening? Andaman has several beachside cafes and bars where you can relax with a drink, perhaps a local tropical cocktail or mocktail, while listening to the gentle sound of the waves. Some of these venues even feature live acoustic music sessions, making them the perfect place to chill out.

Star Gazing on the Beach: Away from the city's hustle and light pollution, the beaches of Andaman offer a perfect backdrop for star-gazing. Lay down a blanket, maybe grab a telescope, and get lost in the vast expanse of the night sky. With minimal artificial lights around, the stars shine brighter, making it a mesmerizing experience.
FAQs about Nightlife in Andaman
1. Is it safe to explore the nightlife in Andaman? 
Yes, the Andaman Islands are generally safe for tourists. However, like anywhere else, it's always wise to be cautious, avoid poorly lit areas, and inform your hotel or resort about your whereabouts.
2. Are there any dress codes for the nightclubs or bars?
 Most nightclubs and bars in Andaman have a casual dress code. However, it's always a good idea to check in advance if you're planning on visiting a more upscale venue.
3. Can we organize a private beach party?
 Yes, some resorts offer facilities to organize private beach parties. However, it's essential to ensure that it doesn't disturb local communities or harm the environment.
4. How late do the night markets stay open?
 Most night markets and shops close by 10 PM. However, during the peak tourist season, some might remain open a little later.
5. Is there an entry fee for nightclubs?
 Some night clubs might charge an entry fee, especially if there's a special event or DJ night. It's best to check in advance.
6. Are the nightlife venues family-friendly?
 While nightclubs might be more suitable for adults, beachside cafes, candlelit dinners, and music performances can be enjoyed by the whole family.
7. What's the legal drinking age in Andaman? 
The legal drinking age in Andaman is 21.
8. Are there any cultural performances specific to Andaman that I can watch at night?
 Yes, many resorts and cultural centers host traditional Nicobari dances and music performances, especially during the tourist season.
9. How do I know about any special events or parties happening during my visit?
 Your resort or hotel would be the best point of contact. They're usually updated about local events and can guide you accordingly.
10. What's the local brew or drink I must try when in Andaman? 
While Andaman has its share of beers and liquors, you must try the toddy made from the sap of the local palm trees. It's a mild alcoholic beverage that offers a taste of the island's flavor.
With so much on offer, the Andaman Islands provide more than just daytime attractions. Their nightlife, though not as grand as some global destinations, offers its unique blend of experiences, making it a must-visit for everyone, from party-lovers to those seeking serene nocturnal escapades.